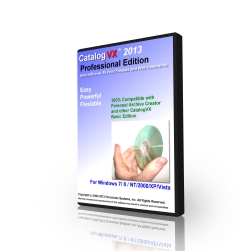 CatalogVX Professional Edition
Save thousands on printing and mailing cost for your business with a full feature e-catalog. You know by now that having a web site is not enough... it is just a start.
For businesses requiring a more flexibility and advance catalog creation environment, we recommend our Professional Edition of our catalog software. The CatalogVX Professional Edition is a full-feature robust software that gives the user the ability to create a multi-format catalog in minutes. This catalog can then be published to CD-ROM, a Web site, or Hardcopy.
Create a more diverse feature rich CD, Print, web site catalog within minutes. No programming or graphic experience required.
Advance shopping cart and price tables for each item.
Design catalog pages using over 18 formats and publish your work to CD, Web, and Printed format without any extra work. All from the same software.
Arrange your items using different styles on all supported media in hundreds of combinations.
The CatalogVX Professional Edition and Wholesalers versions contains tons of functionality that is not available in the Home version of the product.
Basic software customization, extra support, full printed manuals.
Enterprise and site license upgrade option.
and much much more. Contact us for more details.