Forget the complicated technical stuff... your time is too valuable.
Start creating your catalog today without the wait! The Personal Archive Creator is the e-catalog software for your business that gives you the power to create a product catalog within 1 hour of software installation. Just follow our easy to use Catalog Wizard to start creating product catalogs on CD-ROM or in any other format including web, hard copy, and PDF without additional work. This e-catalog creator software is the product of choice for many retail and wholesale distributors.
Download your free trial today and see for yourself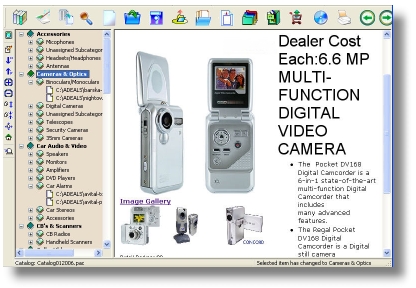 Create a product catalog on CD today with the Personal Archive Creator (PAC). PAC is a application software that gives you the ability to create an electronic catalog on CD, web and print formats. Now even small and mid-sized companies can realize the benefits of creating product catalog on demand and on location without the need to outsource the work to a third party. With this catalog software a company can create e-catalogs "on-the-fly" to meet the constant changing demands of the market and your business within minutes.
This catalog software is a flexible application that gives wholesalers and retailers the ability to insert pictures of their products with prices, reference numbers, and descriptions. The software then allows the user to publish the catalog on a CD-ROM, PDF, Printer, or in HTML format for web development. Items within the catalog can easily be referenced by index and search features. The software contains an internal database that makes it a stand-alone application that does not require any additional software to operate.
Visit our download page for the catalog software and get your free demo today.
The catalog creator has all the features necessary to quickly create your product catalogs, or computer archives. With this product you can organize your ideas and present these ideas to your prospective clients and customers. Start with the 9 predefine category folders or add your own custom categories as you progress through the step-by-step Creation Wizard. Each CD-ROM you create will contain an auto-launch program so your clients will not need to install any additional software to view your products. No programming is required; you can create and publish your CD catalogs within 1 hour after the installation of the product. Additional features are provided within the software beyond catalog creation process including automatic shopping carts, e-commerce, and order forms generation.
Download your free demo today.