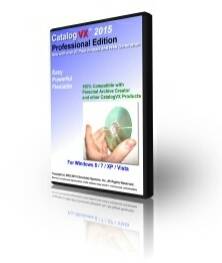 CatalogVX 2018 Professional Edition Upgrade
For Registered verifiable Basic Edition, or older versions of CatalogVX Professional.
Upgrade to the latest professional edition of the CatalogVX and create your customized product catalogs on a CD-ROM or in HTML format for easy catalog web site development. Present your electronic catalogs to the world on a CD or on the web without click adds. Use over 18 formats to display each page of your catalog. The Professional edition contains advance tools, additional support, updates, and features not found in the Home edition of the software.
Please Note: You must first own a Home, Basic Edition, or Professional Personal Archive Creator or CatalogVX software User License before ordering this upgrade.
Price: $180.00 USD + Shipping and Handling
Remember to include your Confirmed Mailing Address when ording via PayPal.
See our Professional Edition feature list or visit our request page to receive additional information on this product.
Please contact orders@chronsystems.com for alternative payment methods.